Hello River Lovers,
Can you believe it? It's already September! While summer is coming to a close, we are gearing up for one of our favorite times of year – the nomination and celebration of our River Town of the Year Award!
If you don't know, the River Town of the Year Award started in 2008 and highlights a city's outstanding work enhancing its local river. For example, Dubuque was honored for making the Mississippi the heart of a remarkable cultural, environmental, and economic renaissance over the last two decades. Charles City was honored for responding to severe floods in 1999 and 2008 "by embracing the Cedar River with new ideas and bold projects," including transforming a low-head dam into Iowa's first whitewater kayak course and installing the state's largest permeable paving system that allows for the drainage of stormwater.
Previous Award Winners: Webster City, Elkader, Coon Rapids, Cedar Falls, Charles City, Central City, Dubuque (River City of the Year), Decorah, Council Bluffs (River City), Manchester, Clinton, Clive, Elgin, Guttenberg.
If your town is doing something outstanding related to your river, we want to hear about it! The brief application can be found on our website and they must be turned in by Friday, December 11, 2020. The 2021 River Town of the Year Award will be announced early next year and we will host a celebratory reception in Spring of 2021.
Until next month, stay well!
Sara Carmichael, Director
Featured River
Mississippi River
The second-longest river and second-largest drainage system on the North American continent, the Mississippi River flows for 2,230 miles, passing Guttenberg, Dubuque, and many other Iowa cities along the way. Divided into three sections – Upper, Middle, and Lower – Iowa is at the end of the Upper section which is categorized by high bedrock bluffs on either side. A beautiful river to explore.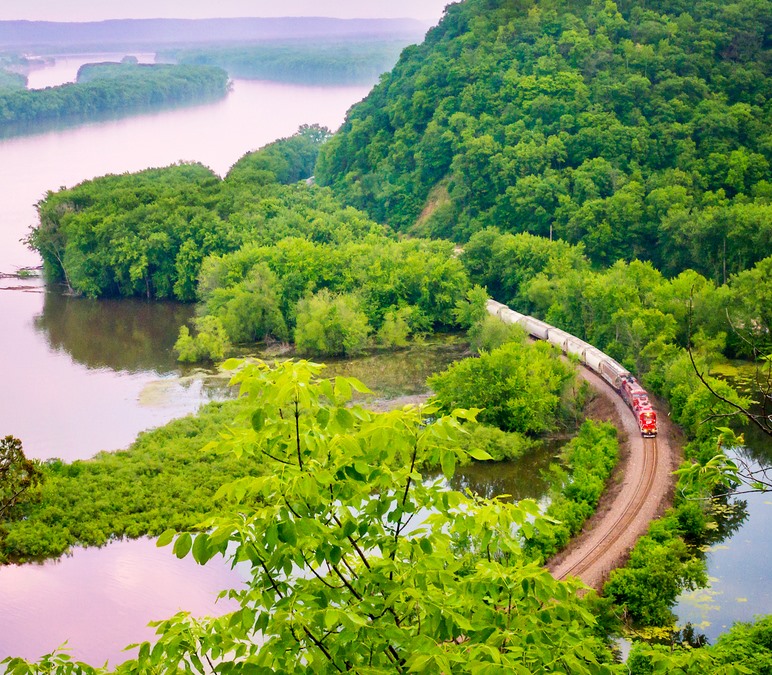 ---
Fill out the RTYA application here: www.iowarivers.org